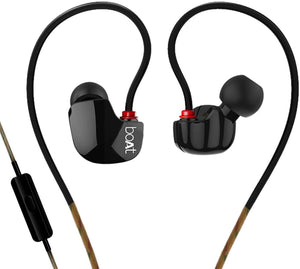 Boat Earphone Niravana Uno
Rs. 1,100.00

Rs. 1,100.00
Tax included.
---
---
Boat Earphone Nirvana Uno
boAt Nirvanaa Uno In-Ear Earphones with Mic
The boAt UNO is an In-Ear Headphone from boAt's Nirvanaa range, especially designed to give you and your music an incredible experience. The Nirvanaa ideology is clearly symbolical with the UNO, Nirvanaa series is all about offering you a perfectly balanced harmonica experience. The UNO redefines the "True Sound" with its powerful 7mm dynamic driver with the speaker resistance of 16 Ohm enables the earphone to deliver a perfectly balanced sound. UNO sports a Memory Wire, the memory wire "remembers" the shape and fit for your ear and adjusts to your ear shape accordingly. It further enables you to achieve the perfect fit with ease. Its universally compatible in-line remote and microphone lets you multi-task on the go.
In-Line Microphone
The boAt Nirvanaa UNO Wired Earphones features a HD microphone to make crystal clear calls. Be it long conference call for work or endless fun-filled "ranter" with your friends. Making life easier on the go. Play/pause music or answer/end calls with one-click, track forward with two-clicks, or back with 3 clicks make these earphones extremely convenient and user-friendly.
Superior Coated Cable
Nirvanaa Uno comes with an amazing amalgamation of style with protection. To ensure additional protection from the threat of corrosion or damage Uno comes with layers of superior tough wire coating. While the earphones are extremely user-friendly & stylish, extruding premium coating onto wire cable is a manufacturing process that we've performing and refining since our company's inception.
Go Gold
Gold really comes into play when you are talking about higher signal levels, where signal loss would occur. The advantage of being remarkably resistant to oxidation, makes it a unique metal. It doesn't corrode, increasing contact area. Thus, reducing resistance. It is naturally more conductive than the ordinary connectors. The gold-plated contacts will allow you to pass the signal much cleaner.